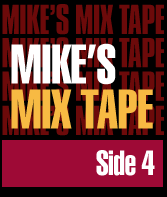 Okay, so I'm going a little Guns N' Roses crazy this month. I was really excited to hear that Chinese Democracy might actually come out this year . . . for real this time. So I wrote about that. (Click here to find out more about Chinese Democracy). Then I talked about how great the original band was during the discussion for the top 500 of all time article. Now the only thing left since the old band and the new band are covered, is what the guys from the original band have been up to since leaving the group for one reason or another. They've been surprisingly productive . . . especially considering Axl, and his new Guns N' Roses (Axl owns the name, and is reportedly about to release a new GNR album with a totally new band) have only released one song in the past ten years.

Let's go guy by guy. For argument's sake, I'm counting all the GNR solo projects completed after the band stopped touring/releasing music, as post-GNR even if the guys hadn't been officially fired yet when the stuff came out.


Steven Adler - Steven played drums on the first GNR album, Appetite For Destruction and on the follow up, GNR Lies, which was made up of the 4-song live e.p. recorded before Appetite, Live Like A Suicide, and four new acoustic songs. Adler was fired from Guns N' Roses, one of the biggest drug bands of all time, because of his excessive drug abuse. Since then he's had a few heart attacks, a stroke or two, and has released no new music. He did tour with a band called Adler's Appetite, but that ended abruptly when their bus driver, who hadn't been paid, left them on the side of the road and took off.


Dizzy Reed - Dizzy joined the GNR line-up on keyboards beginning with the Use Your Illusion albums. He's the only guy from the golden era of the band, other than Axl Rose himself, to still be in the current form of Guns N' Roses.
Gilby Clarke - Gilby replaced Izzy Stradlin on rhythm guitar, when Izzy quit GNR shortly before the release of Use Your Illusion I+II. He played on the subsequent tour, and on the band's last album The Spaghetti Incident? Since being fired by Axl, just before the band's recording of The Rolling Stones' "Sympathy For The Devil", which when it appeared on the soundtrack to Interview With The Vampire, became the last song ever released by a version of Guns N' Roses to contain more than one original member. Gilby had released several solo albums since then . . . I, like most people, do not own them. But since you can get them used for less than a dollar on Amazon, I'm thinking about picking them up . . . it's those damn $2.00 shipping charges that make me hesitate.


Izzy Stradlin - Izzy plays on all four GNR albums that feature original tunes. He quit the band shortly before the release of the Use Your Illusion albums. Since then, he's released five solo albums. The two that I own (the first two I believe) are really good. They're not quite good enough to warrant me spending $35 apiece on the other three which are only available as high-priced imports at this time.


Matt Sorum - Matt replaced Steven Adler on drums and played in GNR from the Use Your Illusion albums through the mid to late nineties when Axl fired him. Matt was in The Cult before joining Guns N' Roses. Ironically the Cult's singer Ian Astbury is now in The Doors, doing the exact opposite thing Axl is doing . . . they've got everyone but the singer, Axl's got the singer and no one else. After leaving GNR, Matt has played with four different bands. He re-joined The Cult, and released at least one album. The other three bands he played in all included other GNR members as well. He played in Slash's Snake Pit, The Neurotic Outsiders, and Velvet Revolver. I'll get to those in a minute.


Duff McKagan - Duff, along with Slash and Axl, is one of the only original members of Guns N' Roses, to play on everything they've done to date (exempting Axl's one single with his new line up). Axl fired him in the late nineties. Before being fired from GNR, Duff released one solo album which had guest spots by members of GNR and Skid Row. Later, he formed a band called the Neurotic Outsiders along with Matt Sorum, Steve Jones of The Sex Pistols, and John Taylor or Duran Duran. They released one album, which no one heard about. Duff also played in a band called 10 Minute Warning. Today Duff is a member of Velvet Revolver. Again, I'll get to that.


Slash - Slash, the top hated lead guitarist on all the real Guns N' Roses tunes, is the reason a lot of people think Axl's new GNR will fail. The theory is that Axl and Slash are like Jagger and Richards - great together, not so much separate. The theory is bogus. I've seen Axl's Slash-less band and they were incredible, and I've seen Slash three times without Axl in two different bands and he was always incredible. They'll both be fine. Slash was fired by Axl in the late nineties. Axl dislikes Slash so much that it's in his contract that Slash cannot be in the building when he plays a concert. This was an issue at one Las Vegas show when security had to escort Slash out before Axl would take the stage.

Slash has recorded two solo albums, with two totally different versions of his own Slash's Snakepit. The first version featured on the album It's Five O'clock Somewhere, saw Gilby Clarke, Dizzy Reed and Matt Sorum all in the band . . . that's four of the six GNR members at the time the album came out. Plus the songs, which Axl reportedly loved, were all supposed to be on the Use Your Illusion follow up. A lot of people think this was the final nail in the original GNR's coffin. The second Snakepit album saw Slash playing with a new group of musicians entirely. Slash is now in Velvet Revolver.


Velvet Revolver - This is the new (their debut album came out last year) supergroup formed by three ex-gunners, Matt, Duff and Slash, along with ex-Stone Temple Pilots front-man Scott Weiland. Oh and there's another guitarist, Dave "how the hell did I get this job" Kushner. He played in Infectious Grooves. Who? Exactly. Their album debuted at number one and this summer they're headlining an arena / amphitheater tour as well as co-headlining Ozzfest for a few dates.

So that's what everyone's been up to. This month's mixtape, in case it's not obvious is a collection of tunes from all of the albums I mentioned above which I own . . . which isn't all of them, but way more than the average person. I picked out 80 minutes of music and set it on random. The result is this month's mix . . . enjoy.


Mike's Mix Tape: August 2005

1.

Shine
Slash's Snakepit from the album Ain't Life Grand

2.

Old Hat
Izzy Stradlin from the album 117 Degrees

3.

Believe In Me
Duff McKagan from the album Believe In Me

4.

Sucker Train Blues
Velvet Revolver from the album Contraband

5.

Just Like Anything
Slash's Snakepit from the album Ain't Life Grand

6.

War (The Process)
The Cult from the album Beyond Good and Evil

7.

Ain't Life A Bitch
Izzy Stradlin from the album 117 Degrees

8.

Cuttin' The Rug
Izzy Stradlin from the album Izzy Stradlin and the Ju Ju Hounds

9.

Been There Lately
Slash's Snakepit from the album Ain't Life Grand

10.

Gotta Say
Izzy Stradlin from the album 117 Degrees

11.

Beggars and Hangers On
Slash's Snakepit from the album It's Five O' Clock Somewhere

12.

Neither Can I
Slash's Snakepit from the album It's Five O' Clock Somewhere

13.

Slither
Velvet Revolver from the album Contraband

14.

Pressure Drop
Izzy Stradlin from the album Izzy Stradlin and the Ju Ju Hounds

15.

Fall To Pieces
Velvet Revolver from the album Contraband

v16.

Set Me Free
Velvet Revolver from the album Contraband

17.

I Hate Everybody (But You)
Slash's Snakepit from the album It's Five O' Clock Somewhere