It is always important for us, as music connoisseurs, to keep up with the current trends in music. So, here at Are You On Something.com, we decided to get on board with the current MySpace explosion and start opening our eyes and ears to all that has been made available through this convenient networking source. We will be scanning the pages of MySpace.com for anything musical that seems worthy of a few words. This is a source that gives us a chance to see an artist, as well as hear their music, by just clicking a few times. If you are an "old dog" and you want to learn the newest "trick," you can go to www.MySpace.com and see what all the rage is about. Or, better yet, you can just drop your eyes down below and we'll bring a few pages to you. Enjoy.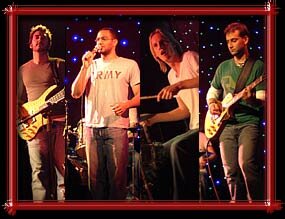 Take "Sir Duke," splash it with a bit of "The Ocean," and paint it with Living Color, and you have the New Jersey based band, Stoned Grace. This is a band that has taken the classic rock vibe a step further by incorporating a little bit o' soul into their sound. Vocalist Justin Wade's core sound is like that of Stevie Wonder or Living Color's Corey Glover, but he takes his voice to places that Wonder and Glover would dare not go. Guitarist Eddie Kish, the band's primary songwriter, has constructed songs in the classic rock style that remain inviting to Wade's soulful crooning. Dare I say that Stevie Wonder fronting Zeppelin just might be the closest I can come to explaining this band's sound?! It really wouldn't be far from the truth. Yes, a truly unique blend of musical genres. With their debut disc, "Cast The First Stone," Stoned Grace has this eclectic mix of rock and soul prominently on display. The steady rhythm section of Marco Gallipoli (bass) and Daryl Anderson (drums) are also something that make this band worth finding out about.
Besides being the guitar player and songwriter for Stoned Grace, Eddie Kish owns and operates Morningstar Studios, where "Cast The First Stone" was recorded and co-produced by Kish. Drummer Daryl Anderson is also an aspiring businessman who runs a successful drum manufacturing and restoration business.
Chances are, Stoned Grace will go far in the world of rock and roll. Not only because they are performing interesting and well written songs, but because they listened to BTO and "got in with the right bunch of fellows," and seem to be takin' care of business.
MySpace profile: www.myspace.com/stonedgrace
Official website: www.stonedgrace.com
As a member of the bands FOZZY and The Duke, Mike Martin has had the opportunity to tour the world. But, for the past 15 years, Martin has been performing around the Southeastern United States while writing material for his latest solo effort, "2 Of 5."
When talking about the world of instrumental music, I like to explain my views like this - there are the musicians who play during their songs, and there are the musicians who actually form the song as they play. Mike Martin is a guitar player that has a great feel for melody. Never overplaying or exploiting the melody for a moment in the spotlight, Martin is one of the few instrumental players that can actually write great songs. In my opinion, Joe Satriani and Jeff Beck are the cream of the crop when it comes to rock guitar instrumental music. Nobody plays to the melody of a song quite like these two guys. Mike Martin reminds me of these two guys. He has the poise and perfect tone of Beck, and the overall sound and feel of Satriani. Sounding like Satriani may be taboo for many of you out there, but let me tell you this - Satch isn't such a bad guy to sound like. Songs like "Salute," "Living The Good Life," "Infection," and the title cut from Martin's latest disc, "2 Of 5," are all incredibly well written and melodic with everything from beefy power chords to delicate string tones.
In the liner notes of "2 Of 5," Martin shares his personal reflections and inspirations behind each of the tracks on the disc. In many ways, this personal portal inside the mind of Martin enhances the songs even further. But, I think the key to who Mike Martin is is summed up nicely in his explanation of the song title "Infection." He writes, "The idea here is that I never really had a choice to be a musician. My desire to play the guitar is beyond any obsession or addiction. I simply must. Music is an infection, and I have the disease." Well, Mike, thanks for spreading the disease.
MySpace profile: www.myspace.com/mikemartinband
Official website: www.mikemartin.net


Okay go ahead, look at the picture for another minute or two…..I'll wait.
Now, besides being the most beautiful woman on the planet, Lynn Carey Saylor is a completely accomplished musician and songwriter. With a vocal tone similar to Faith Hill and a savvy similar to a real rocker chick, Saylor is a musical dynamo.
First, let's talk about her name. Saylor is the name she took when she married Skip Saylor of Skip Saylor Recording Co, Inc. Besides being the place where Guns 'N' Roses mixed their "Use Your Illusion I & II" albums, the company has worked with hundreds and hundreds of artists such as Elton John, Michael Jackson, Madonna, Snoop Dogg, Kenny G, and Kiss. Thus we have a large portion of the neat and pretty package that is Lynn Carey Saylor a phenomenal facility to record in, with a staff of very worthy production people to assist.
Secondly, let's talk about her ambition. Besides being the co-owner of Skip Saylor Recording Co., Inc., Saylor is the founder of GuitarGirls.com, a website devoted to promoting the female musician. She takes great pride in being a songwriter as well, having written 10 out of the 11 tracks that appear on her debut release, "You Like It Clean," entirely on her own. The track not penned by Saylor is a revved up cover of the Pat Benatar hit, "We Belong," which she performs with some help from the song's writers Eric Lowen and Dan Navarro, as well as Queen guitarist Brian May. With her soft, smooth voice and songwriting talents being presented with her stunning beauty, it's no wonder that SPG Guitars jumped at the opportunity to have Saylor endorse their axes too. The combination of the SPG promo photos thrilling your eyes and the sweet sound of her songs seducing your ears, Lynn Carey Saylor is a complete and total package that is irresistible in every way.
Look for my full review of Lynn Carey Saylor's debut disc, "You Like It Clean," in next month's issue of Are You On Something.com.
MySpace profile: www.myspace.com/lynncareysaylor
Official website: www.lynncareysaylor.com
Guitar Girls MySpace profile: www.myspace.com/guitargirls
Official Guitar Girls website: www.GuitarGirls.com