It is always important for us, as music connoisseurs, to keep up with the current trends in music. So, here at Are You On Something.com, we decided to get on board with the current MySpace explosion and start opening our eyes and ears to all that has been made available through this convenient networking source. We will be scanning the pages of MySpace.com for anything musical that seems worthy of a few words. This is a source that gives us a chance to see an artist, as well as hear their music, by just clicking a few times. If you are an "old dog" and you want to learn the newest "trick," you can go to www.MySpace.com and see what all the rage is about. Or, better yet, you can just drop your eyes down below and we'll bring a few pages to you. Enjoy.
e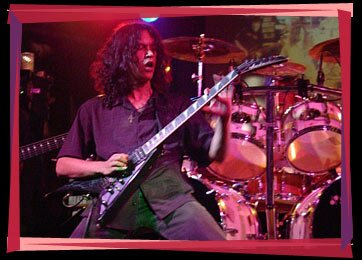 One of the greatest ever Roger Daltrey of The Who

Those are very strong words from a very influential figure in modern music. But upon hearing the strings of Kevin M. Bucks axe being brutalized, you can understand why they were spoken. And if that isnt enough, famed guitarist Leslie West of Mountain fame said of Buck, This kid has a fucking encyclopedia worth of shit in his mind. As I listen to Initiation, the debut CD from Buck, it is obvious that Leslie West was not mistaken in his stark assessment. This is a disc that draws heavily from the styles of Satriani, Malmsteen, and Vai, but it is also grossly original at the same time. Kevin M. Buck, the son of Belizean dancer Marilyn Buck, has been honing his guitar skills since he was 11 years old, training with the likes of Jazz/Blues session man Harry Hmura and Andres Segovia student Jack Cecchini. Through his diverse training he has learned a great many styles, and keeps many of them active on his Initiation disc.

When Buck is not playing his own songs live, he can be found doing gigs with a local tribute band called Blizzard Of Ozz, in which he plays guitar parts from talented players like Jake E. Lee, Randy Rhoads, and Tony Iommi. Buck has also been known to play a host of other songs during his live shows; songs by Iron Maiden, Pat Travers, Metallica, and Jimi Hendrix, as well as the Satriani, Malmsteen and Vai songs one would come to expect. There is also a strong classical influence to Bucks playing. Much like Malmsteen did on his first record, Kevin M. Buck has expanded the hard rock guitar to reach horizons that were somehow thought of as taboo. Its not unusual to hear Buck rip through a Randy Rhoads solo, and then follow it up with a Bach or Paganini classical piece. Kevin M. Buck is a guitar player. A player that respects the instrument and all that can be done with it.

In a world that has traded the shredders for the Eddie Vedders, Kevin M. Buck is a beacon of guitar expertise for an underground fan base that has not given up on the ideal of the guitar God. And while he is in the midst of recording the follow-up to Initiation, I have no doubt that more will join the congregation and rejoice at the feet of this accomplished instrumentalist.

MySpace profile: www.myspace.com/kevinmbuck
Official website: www.kevinmbuck.com
In all of the MySpace band profiles there is a section labeled "Sounds Like" where a band can choose to pinpoint there sound, usually by comparing their style to more popular artists of the past and/or present. I found Deep Rising's entry one of the more intriguing ones. "Imagine Peter Gabriel fronting Stone Temple Pilots, or Seal fronting Alice In Chains. Basically Hard Rock w/ Progressive edge musically and Art Rock-like vocals together for a unique style" is what appears in that area of their profile, and after hearing their full-length CD "Shards," it's hard to dispute their assessment. I hear more of a clean, classic rock vocal in the same vein as someone like Kansas' Steve Walsh more than I hear Seal, but much of the songwriting here influences the ear too. Songs will vary in style, from the revved up Stone Temple Pilots sound of "The Big Stupid" and the "Plush"-influenced STP sound of "Autumn" to the Alice In Chains/"Jar Of Flies"-era sounds of "Would You Even Listen?" And in the midst of it all, there are some great harmony vocals that nod heavily toward a King's X-style upper class vibe.
The one thing that pleases me most about this band is their ability to define a moment with their songs. I hear "Autumn" and I am transported to another place. I hear the soaring spirit of "Phoenix" and I am lifted to a whole other place altogether. But the commonality here is the positivity that every song generates. The lyrics are not excessively positive, but the style of the songwriting is very smooth, even when it gets loud and raucous. These are very well written songs that burn into your mind after a few spins.
No matter who you might list in the "Sounds Like" area of this band's profile, I think they transcend any labels. They have taken some of the best elements of a host of artists, and developed a fully original style that is specifically Deep Rising.
MySpace profile: www.myspace.com/deeprising
Official website: www.deep-rising.com
Here is a band that flies the flag of melodic hard rock proudly. With vocals very reminiscent of Michael Sweet of 80's rockers Stryper, or Triumph's Rik Emmett, the band is unashamed of their old school sound; a sound that fills 11 solid tracks on their self-titled debut CD. One of the first things I noticed when I started this disc up was the impeccable production quality. And I come to find that the band recorded the album themselves, for the most part, and brought in world renowned Mastering Engineer Ken Lee (Queen, U2, Eric Clapton) to put the high gloss on things. But we all know that great production quality alone does not necessarily make a great listen. You need good songs, and Walk The Sky comes up with quite a few.
Fans of Stryper will rejoice and worship when they hear vocalist Rob Bonstin's vocal calisthenics. This is an excellent exhibition of both lead and harmony vocals. The rest of the band is very solid as well, with guitarist Rick Hunter-Martinez playing impressive melodies and solos. Shredding through his fair share here, he never overplays or "steps outside" of the song. Every note that's played is for the better good of the song.
As for the sound, it's really very simple to explain. It's the respectable poise of Triumph, with the sharp vocal attack of Stryper or TNT's Tony Harnell, with a sprinkle of 80's metal bands like Hurricane and Icon to juice things up. And even though the band is heavily rooted in the 80's melodic rock style, their songs somehow sound fresh and up-to-date. It's the sign of a talented band, and Walk The Sky is just that.
MySpace profile: www.myspace.com/walkthesky
Official website: www.walkthesky.com
Go to their page just to check out their list of influences, if nothing else. What an incredible list they have down! They list bands from Sabbath and Maiden, to Jellyfish and Marvelous 3 the list alone makes me stand up and applaud.