What's the line from that old nursery rhyme? "Little Miss Muffet sat on her tuffet, eating her curds and whey. Along came a spider and sat down beside her and scared Miss Muffet away". Well I don't know about Miss Muffet but when this Spyder came along he sat down next to Pat Benatar, rocked her world with his amazing guitar prowess, won her heart, married her and went on to make nearly 30 years of serious rock & roll history. Such is the story that was told on March 28th at the Northern Lights Theater. It was billed as Pat Benatar & Neil Giraldo, and while many casual music fans were scratching there heads saying "who is Neil Giraldo", I was psyched up and ready to rock.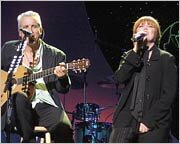 For the last 29 odd years Neil Giraldo has been wielding his six string axe, tapping out keyboard melodies, co-writing, co-producing and driving the music behind one of the legendary ladies of rock, Pat Benatar. For the last 25 years Pat and Neil have been both music collaborators and husband and wife. No easy task in this day and age, and made even harder by a life spent in large part, on the road. Now after all the years touring they take on the next step&equal billing. The stage was set with the tropical theme of their chosen home, Hawaii. Featuring light-up palm trees and a light screen volcano, all that was missing was a Kahuna statue. The back was set with a small keyboard set-up, a percussion kit in the middle and drummer Chris Rallace's kit to the right. Up front, a mic laden with guitar picks took its place to the left, Pat's mic stand was front and center and bass player Mick Mahan's selection of 4 and 5 string basses were slightly offstage from his mic on the right. A very calm, relaxing stage set-up for a night that would be anything but that mellow.
The band took the stage at 8:20 pm, slightly late, but smiling and waving to the cheering crowd. The opening number, "All Fired Up" kicked in and definitely lived up to its name. Pat's vocals have always been the powerful raspy blues-tinted fuel for this bands fire. Tonight her voice was like rocket fuel, lighting up and powering through like she was brand new and this was 1978. Now I have seen Pat several times over the course of her career and without a doubt this was the best I have heard her vocally. Maybe it was because this is a small intimate indoor theater, maybe it was Billy's amazing work on the sound board, or maybe it's just that some things, like fine wine, improve with age. Whatever the reason, she was in high form this night.
With the audience still cheering from the opening number, Neil's guitar led us straight into the "Shadows of the Night". With Pat's voice soaring above the music the band sailed through this classic and into the title track from her "Wide Awake in Dreamland" album. Then, pausing to proclaim the next song to be the best thing to come out of the worst movie, Pat showed us why she is "Invincible". Her powerhouse voice was as clear as a bell and she seemed to soak up the energy of the song and send it back out again in a radiant smile that showed how much she still loves to sing. The crowd fed off this and sang along, at times nearly drowning her out on the refrain. Coming back down to earth, her next song, the bluesy "True Love" showed us where her voice comes from as she belted out this lesser known song with a voice that would have made Billie and Ella take notice.
| | |
| --- | --- |
| | |
| Mick Mahan | |
Taking a pause for a little stage restructuring, Pat told the audience that she and Neil were celebrating their 25th anniversary and a basket of flowers was passed up to her on stage. She quipped that Neil sends her flowers each day and thanked the audience members who had brought them. Next up, with everything reset Pat and Neil took center stage on two stools and began a wicked three song semi-acoustic set within a set. Beginning with "We Live for Love" and followed immediately by a killer version of "We Belong" these songs showed off to everyone there why Neil Giraldo is considered one of the most underrated but truly gifted guitarists out there. With Pat's vocals lighting up the room, Neil's fierce guitar playing turned up the voltage and blew us away. Then, after being joined center stage by Mick Mahan, Neil showed his versatility and musical mastery by jumping onto the small percussion kit and duking it out rhythm style with Chris Rallace on an absolutely smoking version of "Let's Stay Together". All I could do was watch slack-jawed with a new admiration for this silver haired Spyder.
| | |
| --- | --- |
| | |
| Chris Rallace | |
The audience was completely into this now and in the time it took for the cheering and applause to ease down the stools had been removed and Neil was now sitting at the keyboards (is there anything this guy can't do?). "River of Love" was next and it was great, Neil went from keyboard to guitar mid-song and wound up center stage as it ended on a high note. Both Pat and Neil had been having fun talking with the audience as the show moved along, telling stories of the songs and their life between her classics. As she explained the process by which the next song had come to pass, everyone knew what was coming. "Hell is for Children", one of her most poignant and gritty rockers brought everyone into the stratosphere. The slow melodic build up into the frenzied kinetic ending was like dropping a live wire on the crowd. Then with everyone still on their feet from the standing ovation we went back to where it all started. Her two big hits that put her on the charts and first introduced us to the wisp of a lady with the booming voice, "Hit Me with Your Best Shot" and "Heartbreaker" closed out the set for the evening. Rocking us into oblivion as the people down front thrust their fists in the air, and the people in the balcony danced in the aisles, the show came to a close on a high note that could qualify for the mile high club.
Now you know that there had to be an encore and we all stood around waiting with the lights still down. I must admit I was beginning to wonder if it was going to happen after a few minutes had passed and still no one had come back out. Then as the darkness was illuminated the band retook the stage and dove right into two of her most well known songs, the classic "Promises in the Dark" and then the danceable "Love Is A Battlefield" each song recapping in its own way the excellent performance of the evening. Closing out the show with the whole audience on their feet and dancing Pat and Neil waved goodbye and yelled out that they'd be back this summer.
Eleanor Roosevelt once said "Well behaved women rarely make history". Now I don't know if Pat Benatar is well behaved or not, but I do know that along with Neil Giraldo she broke the mold and the stereotype for women in rock. From the seventies, through the eighties, into the nineties and up to today they have done it all, and done it together. The First Lady of Rock and Spyder Giraldo&no&that's way too formal&how about just Neil & Pat, Mr. & Mrs. Rock & Roll.
This show gets a 5 star gotta go see'm - A!

Photos: Paul Kloiber

---