---

Track listing

1.

Silence Was
Deafening

2.

Oleander

3.

Little Mary

4.

Violet

5.

Girl Like Me

6.

She Loves You

7.

How Many Ways

8.

I Like Your Face

9.

Red July Prelude

10.

Red July

11.

Message In A Bottle

12.

Oh Susannah

---

Label: Denhert
Release Date:
January 28, 2003

---
Put this in the "It's Always New for Someone" file: Although she has her own loyal following, most people never heard of K.J. Denhert. If we lived in a perfect world she'd be a multi-million selling superstar, and she still may be someday, but for now she's one of those artists you somehow stumble upon if you are lucky. For the uninitiated, consider this your lucky day.

This isn't even a review of her latest CD. That one, called "Another Year Gone By" is a live album. Our subject today is the compact disc that is titled, "Girl Like Me," a studio collection that was released in 2003.

Strolling through an art show I came upon the music stage and the first thing I noticed was that the band looked sensational . . . very cool. If you had to cast a funky, but chic musical combo for the party scene in a film, these folks would be perfect. It was, of course, K.J Denhert and her group.

The music? Hard to describe. How about Alicia Keys with Joni Mitchell backed by a group featuring Michael Franks and James Taylor? Their music is too lush and passionate to be called easy going jazz, but hey, although there are elements of funk, it isn't funk, it isn't pop, and it isn't folk. Enough about what it isn't. It is very 2005-sounding easy going jazz. Great stuff is what it is.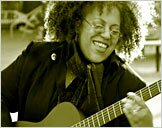 So there I was groovin' to this lady playing her guitar with her beautiful wild hair blowin' in the breeze when suddenly I recognize the tune they were doing. I knew the song, but couldn't put my finger on it as they had rearranged it and made it their own. Yeah, I was totally into it, but what was it? Bam, hit me and I couldn't believe it. It was The Police, "Message In A Bottle," and what a performance. Now I never liked The Police . . . don't want to go all negative here but, I always felt they were soul-less and tried too hard to sound like they weren't trying at all. Well K.J.'s interpretation of the tune proves Sting really does have soul. He just needs a sensual vocalist and a great rhythm section to bring it out.

Turns out the tune is on K.J.'s "Girl Like Me." It has become one of my favorite CD's so far this summer. What a find, and "Message In A Bottle" alone is worth owning the CD for. It's always fun when you hear a cut you never thought much of and it knocks you out, but there's a lot of original stuff, and a few other amazing covers here as well.

"Silence Was Deafening" starts off with a little jazz, slap tap and pow . . . light breezy guitar over a lighter breezy vocal and the silence of the early morning is deafening. You getting this? Of course not, you have to hear it, as she uses words that people usually don't use in lyrics, like&downshift&courageous&unbeknownst&and they cook. I mean this isn't a moon in June tune, ok? This tune feels like waking up on Sunday morning and that's only because there's that stream of sunlight coming in through the side of the window shade. I mean, you know you had a good time last night, but there's a bit of booze still soaking small portions of your mind so you're not 100% sure, but the silence is deafening. That's right, that's what this song sounds like to me. You check it out. You'll see what I'm saying.

This music is a groove you see . . . Steely Dan without the pretension, lush jazz for a summer morning at the shore and the lyrics are something else again like on the cut "Little Mary" where she writes, "Don't trust the mirror if it don't feel good." It's a stone cold gas 'bout Mary, you and me and everybody when nobody ain't around to see us in that state. There's even a bit here that elevates rap to an art form and allows you to realize it really can be called music when properly arranged and performed. Sally went round the roses over 40 years ago . . . Little Mary has got to be related.

Then there's "Violet" . . . romance, hope, despair and sunlight reflecting off the tops of hundreds of waves just before dusk, with a vocal that is so sincere it's heartbreaking.
In the title track she sings in a sophisticated and floating vocal, "With a girl like me you know you won't get bored." Agreed. There's no way to get bored with these unique sounds. The band is as good as it gets . . . period. They are all brilliant and know their roles in creating the overall groove. Excellent!

You never heard The Beatles' "She Loves You" like this; a brilliant take on the tune. "How Many Ways" is an acoustic tune, haunting and beautiful, about change and endings; pour a shot of whatever and settle in for this one. Killer, plain and simple. There are three or four more cuts, but words can't describe this amazing CD. K.J. calls it Urban Folk. Cool, I can deal with that, but it's more - it has a tender funky rhythm running through it all. This is very honest music. Find it and listen for yourself.