"Disc Replay, this is Susan. How can I help you?" Her ambitious voice gave me false hope, but then again, this was my sixth attempt at finding something from the man known as Thomas Dolby. So, as I told Susan what I was looking for, the dead air made me check the connection to see if I still had Susan on the line. So I gave her the hit. I said, "You know, 'She Blinded Me With Science,' &Thomas Dolby." She did nothing but blind me with silence, as I was starting to feel like a stranger in a strange land. As she finally responded with, "Uhh, no," I realized that it was probably easier to purchase a missile than a Thomas Dolby CD here in the States these days.

I'm not a die hard Dolby fan. I'm actually one of those guys who has heard the few hits (yes, he had more than that one), and had only one of his early albums on cassette. But, like anyone who follows music closely, I realize what an innovative pioneer Dolby is. Besides playing with numerous legendary artists (Foreigner, Pink Floyd, etc.), Dolby is the true genius behind what we have come to call "electronica." Dolby is to the electronica genre, what Nirvana was to the grunge movement. So, as Dolby prepared to play Martyr's on the North side of Chicago, a club that holds about 300 people, I was looking forward to an intimate evening of music and hoping to get a few words and an autograph from the keyboard master before I left. The friend accompanying me to the show had finally found a Dolby CD for me at Tower Records, so I was now armed and ready for a thrilling evening.

What did I expect to see at this show? Would he have a band? Would he be premiering any new songs? Dolby has been absent from the music scene for almost 15 years now, with his last studio album, "Astronauts & Heretics," coming in late 1992. This fact left me questioning how sharp he might be. As I walked into the cave they were calling Martyr's, I saw the small crowd loosely packed in front of the stage awaiting Dolby's arrival. It was an older crowd, as you might expect, and from some of the conversation going on around me, many of these folks were diehard fans of Dolby's music. As I looked at the stage, it was obvious that Dolby would be going it alone tonight. There were simply a few keyboards and a white linen screen nailed to a frame sitting on the stage, and there was room for nothing else. I cannot stress how small this club is. We're talking tiny, ladies and gents. If you wanted to be more than forty feet back from the stage, you'd have to stand in one of the head shops down the street. We're talking really small.

As show time approached, the man of the hour was escorted to the stage from some back room. As he climbed a small staircase in the front of the stage on the right side, he was donning a heavy tan, double-breasted overcoat. On his head was a U.S. government designed military head cam, equipped with a microphone. With his amber-colored spectacles placed firmly over his eyes, Dolby looked like a cyborg that was ready to communicate with some alien mothership through music and sound. Firing up his keyboard rig, he quickly launched into "Leipzig." Everything was sounding great over the Martyr's PA on this Tuesday evening. You got the feeling that Dolby was comfortable with the intimate setting, as he spoke candidly to the excited but low key crowd in between almost every song. As he made his way through "The Flat Earth" and "One Of Our Submarines," it became clear that Dolby has kept his vocal chops intact over the years. Hitting the highs and lows, and delivering all of them smoothly, Dolby was very sharp vocally.

Now, because Dolby does perform by himself, much of the high points of his songs were lost here. The songs were lacking the soulful, female backup singers and the live brass sections, and all those other fine points that are so prevalent in the Thomas Dolby repertoire. But, although you didn't get the glimmering of the spotlights off of the crash cymbal, you did get to watch a master build songs like a kid builds sand castles. You also got to see Dolby work his rig on the screen via the perfectly placed cameras that surrounded him. During "One Of Our Submarines" we got scenes of submarine radar that were intertwined with Dolby pushing buttons and turning dials. The film really accompanied the mood of the song well. Thomas Dolby is a technological genius, and it shows throughout his performance. As he taps a few buttons, and turns a few dials, he starts triggering all the necessary components needed for each song.

As Dolby finished each song, he began to tell stories. You got the feeling that you were in his living room, and he was okay with that. He offered funny stories and personal tidbits that made everyone comfortable and happy. For example, before he started into "Windpower," he told us of one theory of where he has been over the past fifteen years. As he put it, the story goes that he's been "in Rio De Janeiro driving taxicabs with the bass player from The Knack." Or when he tells of how he called a website's 800 number for his $850 keyboard stand, and asked the lady on the other end of the phone what kind of market there was for an $850 keyboard stand. He recalls the lady telling him "places of worship" were there biggest market, and he was asked if he wanted the optional $325 Bible attachment.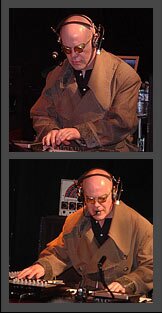 One of the best stories he told was of his astronomy hobby that he had taken up. He told us all about sunspots, and how he was putting the sun's activity to music. This story really demonstrated the genius behind this artist. His musical ingenuity is rivaled by only a few. He also told of his affection for the internet, and how he has always wondered why people bought his records. Through the internet he said he came to find, "the reason you were interested in my music was not for the commercial stuff, it was actually the quiet, serious stuff."

This highly pre-programmed set didn't go off without a miscue though. As he started breaking into "Europa & The Pirate Twins" he stopped and had his crew reload the track. In the midst of this technical difficulty, he took time to throw four or five t-shirts out to the crowd. It showed that even in the haze of non-perfection, this was a confident man that was comfortable doing what he was doing. He later told us of good news and bad news. The bad news being that he would not be performing any new material, and the good news being that he would have a release by the end of the year and be returning to Chicago before Christmas. With that information, you could understand why he was doing these tiny club shows. They were the perfect place to try some new things and work out all the "bugs" that might be lurking.

For being out of the music scene for 15 years, the rust was never really apparent in this set. As he finished the set with "Hyperactive!," "She Blinded Me With Science," and an experimental piece that included one verse of "Airhead," he seemed more comfortable than ever.

To put the entire experience in perspective:
" Would I have liked to have a few scantily clad, soulful backup singers on the stage? Yes.
" Would I have liked a longer set than this 11-song, 75-80 minute set? Yes.
" Did I enjoy seeing a living legend in a club the size of a soup can? You bet your ass I did.

Oh yeah, I did get my CD sleeve signed by Dolby too, thanks to a very thoughtful fan who had a wristband to attend an after show meet & greet. I just wish I had a chance to thank Dolby in person for his talent and innovation over the years. Oh well, maybe later this year I'll get another chance.
---
Set list
Leipzig / One Of Our Submarines / I Live In A Suitcase / Flying North / The Flat Earth /
Budapest By Blimp / Windpower / Europa & The Pirate Twins / Hyperactive! /
She Blinded Me With Science / Airhead (partial/one verse only)
---