The Green Mule: A Tale of 2 Bands Live in NYC
Gov't Mule Roseland Ballroom 9/13/2004
Green Day Irving Plaza 9/21/2004
by Mike D'Ariano

---
know what you're thinking. What the hell could Green Day and Gov't Mule possibly have in common? Am I right? I bet I am. And if that's so, you're probably also thinking that we just got lazy like some other music publications (Hey, it takes a lot of time to decide that Like A Rolling Stone is just a hair better than Satisfaction) and crammed two reviews into one for no good reason. Well you're wrong.
Aside from the fact that the two bands sit next to each other in my iPod, and the interesting reality that both groups are hugely successful in genres that most people thought had faded away a quarter of a century ago, there's an even more logical reason to review these shows together. Within an eight-day span this past September, I watched both the hippy jamband that's too heavy and thirty years too late to be a hippy jamband, and the punk rock band that's twenty years too late and too poppy to be a punk rock band. They performed their entire new albums live from start to finish. Oh, and both groups think Bush is a dick.
There's no way to write a review of these shows with out reviewing the two new records. To keep it simple, I'll just say this. Both albums - Gov't Mule's "Deja Voodoo" and Green Day's "American Idiot" -will make my personal list of the best ten albums of 2004. Green Day's will make the top three. Aside from the obvious differences that coming from two totally different genres result in, these albums are fundamentally different.

Green Day's album is the most ambitious of their career. The so-called "Punk Rock Opera" tells a continuous story throughout the album (how successful or unsuccessful this aspect of the record is, is another issue) and shows the band pushing themselves to create the most challenging music they've ever attempted. The guys that got famous writing three-minute power pop odes to girls, losing your mind, and doing lots of speed, are now writing songs that push the ten-minute mark. They contain several distinct movements (that's fancy speak for parts of the same song that sound totally different - "A Day In The Life" for example) and deal with complex issues like, well okay it's still mostly about girls, losing your mind and doing drugs, oh and Bush being a dick. Did I mention the songs are like ten minutes long?

Gov't Mule, on the other hand, is no stranger to the ten minute song. In fact, it's kinda their thing. While there may only be one or two extra long tunes on the new record, trust me, they tend to grow on stage. That growth, which is happening nightly right about now, is the fundamental difference that I mentioned earlier. Green Day, has reached an apex point, with their latest album. It's without a doubt grander than anything they've done before, and the reason for that is that they've grown as a band for the last fifteen years. Gov't Mule however, is starting anew with their latest.
The short version of Mule's pre Deja Voodoo history is that the band, initially a trio, recorded three albums together before their bass player Allen Woody passed away in the summer of 2000. Next the surviving members recorded two albums featuring a different bassist on every track. The guest players included Les Claypool (Primus), Oteil Burbridge (The Allman Brothers Band) John Entwhistle (The Who) and some 20 plus others, many of whom sat in with the band on the subsequent tours. Late in 2003, Mule announced that Andy Hess, a former bassist for the Black Crowes, would be the band's newest member, and in addition announced that they were no longer a trio by making keyboard player Danny Louis a permanent member of the group. Deja Voodoo is first release by the new line-up. It shows.
Don't get me wrong, after all I did say it was one of the year's ten best, the Mule album is really good. It just feels like it's the beginning of something. The tunes don't mesh with each other as nicely as they could, and while the band is tight as hell, things don't quite flow as smoothly as I for one expect they will in years to come. In weeks to come for that matter, I've heard tapes of a few shows from this tour, and what I'm talking about is already going down on stage a little more each night.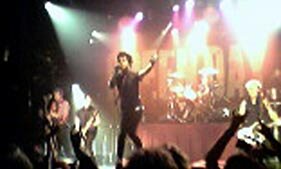 Taken with an LG camera phone.
"Life's Good" but their camera phones aren't!
With the albums out of the way, on to the concerts. We've already established that I personally enjoy the Green Day album more. What does that mean in terms of performance? Apparently nothing. Gov't Mule's live performance of Deja Voodoo blew away both the studio version of the album, and Green Day's effort at performing their latest. Even with seven guys on stage, (yeah they're still a trio but when you need a tympani in a song you need a tympani player) Green Day couldn't even begin to touch the roar of sound that is live Gov't Mule.

I think the easiest way to explain the difference between the two acts is to look at their drummers. Green Day's Tre Cool donned headphones for part of their set so he presumably could play along to a click track and in turn keep time properly. Meanwhile, Gov't Mule's Matt Abts played a custom built drum kit which featured two bass drums stuck together with a mic in the middle so he could get a bigger sound. After a ridiculous drum solo, and an equal measure of applause, Mule's singer/guitarist Warren Haynes joked with the crowd, "Don't encourage him. Next tour he'll have three bass drums." What I'm pointing out here is that basically, one guy needed electronic assistance to play right, and the other created a whole new technique so he could get exactly the sound he wanted.
Now the flipside. Green Day's gig got infinitely better when they finished with the new stuff, as well as the bloated line-up, and tore into some of their classics. After four tunes from their earlier records, the guys played a rockin' cover of Queen's "We Are The Champions" and left the crowd begging for more. Conversely, the Mule gig lost a bit of steam during the second set which consisted of older material, a few covers, and despite the promise of "lots of surprises" featured no special guests or departures from your basic Mule set
All in all, both shows like the albums they showcased were great. Initially I was tempted to give Green Day the advantage because due to punk rock etiquette (the ability to violently shove someone near you out of the way when you need a little space) the show was somewhat more comfortable. But then I remembered that no one fell on my head during either of Mule's two sets so I'll call it a draw.
Photos by Mike D'Ariano

---