---

Track listing

1.

Devil's Party

2.

Pretty Vegas

3.

Afterglow

4.

Hot Girls

5.

Perfect Stranger

6.

Remember Who's
Your Man

7.

Hungry

8.

Never Let You Go

9.

Like It or Not

10.

Us

11.

God's Top Ten

---

Label: Burnett/Epic
Release Date:
November 29, 2005

---

Overall rating: 7
It brings back thoughts of a band like Foreigner, who hired on a singer half their age when Lou Gramm left the band. Or guys like Robert Plant, who go solo with at least one member of his new band still being bottle fed. Sometimes it's a bust, as it was for Foreigner, but other times there is an injection of youthful fire that the veterans have just managed to lose over the years. INXS has tried their hand at this to possibly breathe new life into a band that was left deader than their former charismatic front man, Michael Hutchence. With the help of a network reality based program, similar to that "Idol" show, they got their young fireball by way of Canadian J.D. Fortune. Now, half of this review is going to revolve solely around this new young stud. I mean, c'mon, I think we're all curious whether this boy can carry the burden of raising the dead. For those of you that watched the Rock Star INXS program, you are well aware of who Fortune is, and you may have even felt that his competition, Chicago based singer Marty Casey, should've gotten the job; but for those of you that actually have lives, let me explain this guy for you Michael Hutchence Part 2.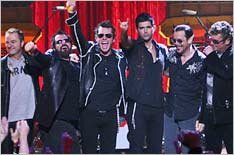 When Fortune lit up the Rock Star INXS stage with his original, "Pretty Vegas," the wheels were set in motion. It came across as one of the hottest INXS songs ever, even though he was just a homeless, out-of-work Elvis impersonator at the time. With his deep, sly tone and his slinky stage presence, it was like watching Hutchence being exhumed. The similarities are uncanny throughout this record. By first hearing "Devil's Party," the lead off track of the album, you can't help but get a chill. In the spirit of "Devil Inside," Fortune's tone and attitude are eerily on target with the INXS of old. With Kirk Pengilly's sax stylishly blaring, and Tim Farriss' familiar jangling guitar part backing Fortune's strong, smooth and suave vocal, it's all just a little overwhelming. The band was trying to add a spark and breathe new life, but this is a five alarm blaze that oozes with all of the spirit of classic INXS material. Songs like "Perfect Strangers," "Hungry," and "Us" are all crafted in the same sensibility and are products of the vintage formula. And, even though the sound is suspiciously similar to Hutchence's work, it is not a cheap imitation. Fortune's tone is perfectly natural, and his comfort level shines with every note.

Now make no mistake, the record has its flaws. "Hot Girls"(in which Rock Star contestant Deanna Johnston does some backing vocals) is a bit self indulgent and silly, and "Like It Or Not" has the band playing a messy Clash-type arrangement underneath Fortune's forced and unnatural vocal track. But, all in all, there is very little to complain about here. Fortune proves that he can come with the goods on both the rockers and the ballads. A good example of that dexterity comes with a song called "Afterglow," a U2 inspired composition that beams with beauty and elegance. It is flanked by contrasting rockers like "Pretty Vegas" and "Hot Girls," but yet it still finds its way into the steady flow of the album. And, when the band is not doing the typical rocker or ballad they are exploring other interesting song landscapes. With "Remember Who's Your Man" they plunge into a Prince-like R&B/Pop sound, while "Never Let You Go" finds the group successfully experimenting with a Caribbean jazz melody with a brutally catchy refrain and a perfectly placed sax part. It's a mixture that keeps the album flowing consistently with captivating rhythms.

For those of you who were saddened when "Sweet" Suzie McNeil got canned on the Rock Star INXS show, this disc holds a special treat for you. The last song on the record, "God's Top 10," begins with a spacey piano effect that is soon accompanied by a husky female voice the voice of contender Suzie McNeil. A song that is obviously an ode to Hutchence, this is a graceful and poignant lullaby that sounds almost celestial in nature; it's a thing of sheer beauty. McNeil does a splendid job here, although her appearance is extremely brief, and her small part acts as another brilliant diversion that keeps this album interesting.

Romance is gone
he's drifting with the stars
A lyric in his pocket
little girl in his heart
When she hears his songs
on the radio
I don't need to tell you
what you already know
He's on God's Top Ten
where heaven never ends
You saw the world
and the world saw you on the stage
wild wild wild colonial boy

from "God's Top 10"
It was a brilliant move on their part. The remaining members of INXS wanted some new, young blood in their frontman spot, and what better way than a network reality show to pick someone, right? But you see, a good idea doesn't always bring about a good end result dare I mention things like Styx's "Kilroy" concept or the Elton and Eminem duet? No, the boys in the band still had to pick the right person for the job, and that's always a tricky task. But rest assured, they got the right guy. As far as those of you who thought Chicagoan Marty Casey should've got the spot, I can tell you this it would've cost them a Fortune, and that's something they just couldn't afford to lose.