Nowadays, it isn't so unusual to see a bunch of forty-something adults hire sitters and go out for a night to recapture old memories. They go to dances billed as 80's High School Reunions. They blast Bowling For Soup's "1985" and sing along. They even kill off the ozone with hair a foot high, stiffened with enough hair spray to make Donald Trump's comb-over immovable. But tonight was different. Tonight Joan Jett was playing. That's right Joan Jett & The Blackhearts. You remember them. At forty-eight years old Joan Jett isn't just strolling us down memory lane singing her "hits of the past." Joan, the Godmother of Punk, is up there rockin' the joint 'til the roof shakes, and everyone watching is on their feet and cranked up to 11. And let me tell you after seeing this show, I wish there was a 12.
| | |
| --- | --- |
| | |
| Photos: Paul Kloiber | |
She hit the stage along with fellow Blackhearts Thommy Price on drums, Dougie Needles on guitar and Enzo Penizzotto on bass. There was no chit chat or small talk like so many artists do when they come out. It was time to rock and Joan wasted none of that time. Her opening salvo of "Bad Reputation" was crisp and clean, and full of all the raw punk energy that her songs are noted for. With a resurgence of popularity from "American Chopper," this was the obvious choice to lead off the night, and from there it only got better. Next up was the classic Runaways tune "Cherry Bomb" and it was nearly perfect. Her vocals were as clear as they were back in the eighties and her guitar playing was spot on. It's hard to believe that she dropped out of high school in the eleventh grade some thirty two years ago to go on a world tour with The Runaways, and is still at the top of her game.

With her voice egging the crowd on, she cranked it up another notch and asked that question every boy in the eighties dreamed of answering&"Do Ya Wanna Touch." Oh YEAH!!! With the audience on their feet and hands in the air, the band didn't need to back her on the chorus. Resounding chants of "YEAH," with fists pumped, came from every seat in the house. The joyride was in full swing when she took us current and introduced the audience to the songs from her new CD. Now I consider myself to be pretty up to date musically, but I only remember a blurb, months ago, about her new disc. Whoever did the blurbing needs to be kicked in the can, because her new songs are as powerful and potent as those that rocked the eighties. The CD, aptly entitled "Sinner," covered more than a few sins within its playlist. And with each song that she introduced, Joan would wag her finger at the audience and say "This song is off the new CD&'Sinner'," and then laugh and quip that wagging her finger made it sound more ominous. With political songs such as "Riddles", the musically liquid "Androgynous', powerful rockers like "Five", "Change The World" and the BDSM tainted "Fetish," this disc showed us that this pop/punk goddess and her bandmates can do it all. Her writing with co-writer and co-producer Kenny Laguna is pure punk chemistry. It's no wonder to me that she is celebrating 25 years of her own record label (Blackheart Records).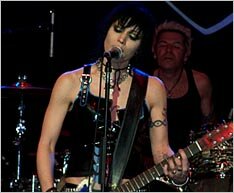 With the Mary Tyler Moore inspired "Love Is All Around" and the ever popular "Crimson & Clover" slipped into the mix, she cruised towards the end of the set and nearly brought the house down with "I Love Rock & Roll" and "I Hate Myself For Loving You." People literally danced on their chairs at this intimate little venue, and the place was still buzzing with an energy that could have lit up Milwaukee as the show came to a close. I cannot tell you how amazed I was. I knew she was good. I have always loved her music, but this was an eye opening experience for a music lover like me. Just as I was catching my breath, the band retook the stage and blew me away again with a rockin' encore. Leading off the two song encore was her latest single, the pop/punk cover of Sweet's "A.C./D.C. Joan and the Blackhearts have covered more than a few songs in their history, and they always make sure their version respects the original while showing their punk roots throughout - this song was no exception. Its energy and infectious groove had everybody out of their seats again. The next song up really pulled the whole night together and brought the band and the audience into one very cool place. Her cover of Sly & The Family Stone's "Everyday People" united the whole crowd into one happy sing-along. It was the perfect ending to one of the most entertaining and energetic concerts I have been privy to.
Twenty-five years ago, Joan Jett couldn't get any label, big or indie, to take a chance on her music. She and Kenny Laguna formed Blackheart Records and it has been musical history ever since. Whether it was being the first American rock act to play behind the iron curtain, producing some of the best punk music ever made, or just letting the whole world know how much she loved rock and roll, Joan Jett has done it her way, which is the right way. So, to all the labels that passed on her, thank you! If you had signed her, the music wouldn't have been what it was and what it still is today. To Joan, Kenny and the guys in the band, all I can say is this: When you want it done right, do it yourself&and thank the music gods you did!! To all the readers and music fans, I will tell you this. When Joan Jett and The Blackhearts come to your town, get up off the couch, throw on that studded belt, get your ass to the show and make the rafters rattle!!!
This concert gets a punked out, rock and roll, give'em hell A

---