It's Sunday night on the weekend after Thanksgiving, and I find myself sitting in the intimate Northern Lights Theater inside Potawatomi Bingo & Casino. This is a great setting for any concert, but tonight will be near perfect. Tonight is Jewel, just Jewel, and her acoustic guitars. The great acoustics and excellent sound system of this small venue will make every nuance of Jewels voice crystal clear.
The show begins with opening act Steve Poltz. He is center stage with nothing but his acoustic guitar, a mic and a stool. We soon find out this is not just a musical performance, but an offbeat mix of music, spoken word and his own version of comedy (most of which was about as funny as the stool he was sitting on). Sadly enough one of his "songs", and I use that term loosely, was entitled "I'm Just A Chair". His quirky lyrics and oddball style ended with an idiotic conversation between a prerecorded tape on a micro-cassette recorder and himself. Thankfully he was only on for a little under thirty minutes. Not the most auspicious start to what should be a great show.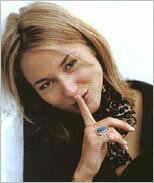 A mere fifteen minutes later and a quick set change it was time for the main event. Coming out in a light tan peasant blouse, painted on jeans and brown calf high boots Jewel took her place between her two guitars, a small table with flowers and her book of songs off to the side. Stepping into the spotlight, we are greeted to one of the most exquisite voices ever to grace the stage at the Northern Lights. In an a cappella version of "Somewhere Over The Rainbow" we are transported to nirvana faster than Dorothy was to Oz. Jewel's voice was crystal clear and every note reverberated through the audience like a bell over a calm lake. After a well deserved round of thunderous applause, she smiled and picked up her acoustic guitar. From that point on she treated us to one of the purest singing performances I have ever witnessed. Singing in a myriad array of voices, from soft and poignant, powerful and full, to a squeaky little girl voice each song was its own special treat. Songs the audience knew by heart, and even some she has yet to record on any CD took us through the journey of Jewel's life. "Rosie & Mick" and "Violet Eyes" two of her unrecorded gems were clearly audience favorites, known by her loyal fans that follow her from show to show. Even the country inspired "Angel" with it's yodeling fit right into this one woman show.
Stopping after nearly each song Jewel joked and gabbed with the audience. Telling the stories of her songs, the road and her life in general, we got an in depth look at where this Alaskan siren came from. And while some of the stories rambled on and on to the point where all we wanted was for her to shut up and sing, we listened intently to each. It was evident, from how she spoke and how she sang, that each song held its own special place in her heart. From well know favorites like "Hands" "Life Uncommon" "Foolish Games" and "Who Will Save Your Soul" to lesser known songs including the duet "Silver Lining" with Steve Poltz, Jewel revealed the depths of her soul. Then, just as elegantly as it started it came to a close, or so we thought. With a cheering crowd still on its feet our smiling blonde songstress came out for a short two song encore, and just as it started, she ended the night a cappella. The first song, a Spanish number with a name I didn't know, showed just how diverse she truly was. Smiling and thanking the crowd she flowed right into a stunning version of "China Bells Are Ringing" complete with a yodeling portion that would have made the Von Trapp Family proud. From start to finish Jewel's voice sparkled and her guitar sang and we soaked it up like sponges. With the exception of the opening act this was a near perfect night. I highly recommend everyone see this stunning Jewel in her natural setting&singing and playing the notes of her soul and the melodies of her life.
Overall Grade A Solid B

---