K-Crock Claus Fest IV
Franz Ferdinand, Chevelle, Jimmy Eat World,
Papa Roach, Korn, Velvet Revolver

Continental Airlines Arena, East Rutherford NJ - 12/3/2004
by Mike D'Ariano
---
t was thirty degrees outside and my friends and I were huddled around the car eating salami and cheese sandwiches, (well not Rob, he's lactose intolerant) and drinking Molson XXX beer. The sandwiches were good. The beer tasted like armpit, but I kept chugging away because the guys had fallen in love with the brew on a recent trip to Canada and swore that after just three, I would hallucinate.

After my second XXX, a guy, who looked homeless and who I initially thought could have been one of the aforementioned hallucinations walked over to us and said, "T-shirts man, t-shirts." as if he was answering a question we had asked and not just speaking to us randomly. We looked at him quizzically and he said, "I got Korn and Velvet Vevolver. Which you want?" No one corrected him about the name of the second band. Instead, John just said that he wanted one with both bands on it. The homeless bootlegger mocked trying to squish the shirts together and said with a smile, "Sorry man, I ain't got no VelviKorn." We laughed over the remark like five drunks and a homeless criminal would, and sent him on his way. We didn't buy a shirt, but I gave him a beer.

From there the night got considerably less interesting and unpleasant as it was time to head inside for the concert. Showtime was seven o'clock, and since none of us cared to see Franz Ferdinand who were scheduled to go on first, we had waited outside where beers were six for seven dollars and not one for five. We were on the way in when we learned that the concert was not going according to schedule. Apparently not only had we failed to miss Franz Ferdinand, we had also succeeded in completely missing Chevelle, who I for one was looking forward to checking out. We made our way to the seats, stopping only twice to check with our sherpa guide that we were heading in the right direction and to take hits of pure oxygen as the air thinned, and settled in to watch the next band, who since the schedule was out the window could have been anyone.
Papa Roach was up first. They had a hit a few years ago with a song called "Last Resort". For my money, and it seemed like I wasn't the only one who felt this way, they could have come out, played "Last Resort" and left. Instead they played four poorly received tunes and then hit the one that people actually liked. Someone in our section mocked the band by singing along but changing the lyrics to "Cut my CD into pieces, this is my one good song!" The one thing I can say about Papa Roach was that they did at least set the tone for the next two hours of the show - boring crap followed by boring crap.
Franz Ferdinand was a European duke, who was assassinated in the 19-teens. His murder kicked off World War I. I'm not sure how accurate that information is, it might be dead on or it might be total bull shit, but I am sure that John telling me this was the most interesting thing of the night having to do with Franz Ferdinand. The band, the current darlings of the indie world, who's album was ranked in the top ten of the year by Uncut magazine (who's opinion I actually value), couldn't have been more out of place. The crowd was decidedly a metal crowd (perhaps maybe because every other band on the bill plays metal or something close to it) and the poppy, quirky rhythms that Franz offered might as well have been Simon and Garfunkel. K-Rock will surely play clips of their performance complete with roaring crowd approval, but don't believe the hype. Every band gets pity applause and every sound editor knows how to boost it. Franz Ferdinand got booed coming on the stage, got booed during their set, got booed when they left the stage, and got booed later in the night when one of the goofy DJs was killing time by running down the list of who had already played as if we'd all forgotten.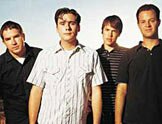 Jimmy Eat World came on next. As I mentioned, they were boring crap, so I'll just use this space to mention a few things about the concert that I haven't gotten to yet. First you should know that in all of the 1000 plus concerts I've been to, I've never been at one where the sound, not the music itself, but the way the music sounded was so totally awful. Every band - the shitty ones we covered already and the good ones coming up - sounded muffled, distorted and not very loud. I get better sound out of my headphones. Now I've seen concerts at the Continental Arena before, and I've never experienced this b-level sound system, so that leaves me to assume that K-Rock just didn't put in the dough to get decent gear. That seems about right since the line-up was lame, the ticket prices were lame, and the DJ's emceeing the show were really lame.


Korn, who came on after the longest break of the night, were the first band that really seemed to appeal to the crowd. Within thirty seconds of them taking the stage, the whole building was on its feet, and the floor was actually shaking as people flailed about. It was great. For a second there, it felt like we were at a real rock concert. I turned around to see a miniature mosh pit going on in the aisle behind our seats. I smiled thinking to myself, "finally a little chaos. This is what rock is about." Or not. Within three minutes, about two dozen yellow jacked security guys looking to prove that no matter what the test results said they could have been really good cops, came pouring in from all directions throwing kids out of the way and determined to stop anything that might be considered fun from happening. I turned around to avoid watching the inevitable bludgeoning that would go down if some kid was too stupid to just shut up and quietly go back to his seat. I sat up straight and behaved myself like a good little school boy while Korn raged on below.
Speaking of 'good little school boys' the best moment of the night which was also the biggest surprise came when Korn played Pink Floyd's "Another Brick In The Wall". It wasn't a surprise that they played it, I knew it was their new single, it was just a surprise that it was actually as good as it was! Another highlight was the bagpipe introduction to "Shoots and Ladders" a song which still rocks almost ten years after I first heard it, but is still as silly as you would expect a song to be when it's chorus is a grown man screaming "knick knack paddy whack give a dog a bone" as viciously as he can. The singles "Got The Life", "A.D.I.D.A.S." and "Freak on a Leash" were crowd favorites, and I was happiest when they tore the room apart with the first song from their first record, "Blind".


With Korn out of the way, on to the main event, or at least what I thought was the main event, Velvet Revolver. About the only thing the promoters of this show and I agreed on was that the super-group formed from the ashes of Guns n Roses and Stone Temple Pilots deserved to be the headliners. Apparently we were wrong. When Korn's set ended, a huge portion of the crowd headed for the exits, and since there were tons of empty seats to begin with, this left the room at about sixty or seventy percent full. Velvet Revolver took the stage, saw this, and proceeded to quickly go through the motions and get the hell out of there with no encore. It was a depressing end to a dismal evening. Yeah they were better than anyone else that played that night even without really trying, but it was like walking the long hard road to the promise land only to find that the promise land is actually just another truck stop Burger King. The last three tunes they did, one by GNR (It's So Easy), one by STP (Sex Type Thing) and Velvet Revolver's own biggest hit (Slither) were great, but worth $45 including shipping and handling, a facility charge, a
ticketmaster fee, a donation to charity and who knows what else? Not a chance.
To sum up the show, let's look to the only K-Rock on air personality that people responded positively towards, Robin Quivers. That's Howard Stern's sidekick for those not in the know. When Robin came on to introduce Korn, the crowd was actually chanting "Sa-Tel-Lite!" in reference to the fact that Stern is leaving K-Rock next year for Sirius Satellite Radio.
My bet is that if the best the station can come up with is a second class sound system, a bunch of has-been and sorta-been bands, and some asshole DJ wearing a Russian hockey jersey asking another bubblehead DJ if she'll "show her tits" (which of course she didn't) then Howard won't be the only one leaving the station. The listeners will be next.
---