---

Track listing

1.

My Hands Are Tied

2.

Am I Wrong

3.

How My Ever Gonna Get Over You

4.

Going, Going, Gone

5.

Keep It To Yourself

6.

Get Ready

7.

Imaginary Lover

8.

Green Onions (Live)

9.

Another Man's Prize

10.

Childish Love

11.

Got My Ion Hue

12.

Just For A Thrill

13.

Comin' Back In A Cadillac (Live)

14.

(I Want You To) Tell Me The Truth

---

Label: Flavored Nations
Release Date:
July 12, 2005

---
30 years after the release of his last solo album, Al Kooper is back with Black Coffee, a superb collection of expertly-crafted tunes that showcase Mr. Kooper's multi-faceted musical talents along with his deep affection for rhythm and blues.

For those not familiar with Mr. Kooper or his work, he has a musical resume that could rival just about anybody's. He is a rock and roll pioneer who gained notoriety in the 60's as a member of The Blues Project, was the founder of Blood, Sweat & Tears, was a session musician for Bob Dylan, Jimi Hendrix, The Who, The Rolling Stones, George Harrison and many others, plus discovered the legendary southern band Lynyrd Skynyrd and produced their first three albums. In other words, this man is a rock and roll behemoth who never quite received the recognition that he truly deserves.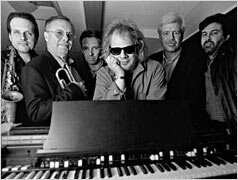 Kooper with The Funky Faculty
Photo: Liz Linder
Even though it's been 30 years since the release of his last solo album, he has maintained his presence on the music scene through writing, producing, performing and teaching. Over the years, Kooper has stockpiled an arsenal of approximately 140 original songs, nine of which were selected to be recorded for Black Coffee. The set was produced and arranged by Kooper, who is backed on eight of the fourteen tracks by The Funky Faculty (Bass - Tom Stein, Drums - Larry Finn, Horns - Jeff Stout & Daryl Lowery, Guitar - Bob Doezema). The band is comprised of actual professors from the Berklee College of Music in Boston where Kooper himself was an instructor for a number of years, and they have a tight, funky, R&B sound that serves as the perfect companion to Mr. Kooper's soulful material. On the remaining tracks, Kooper plays all the instruments himself with the exception of "Get Ready," where he is joined by drummer Anton Fig.

The opening number, "My Hands Are Tied," has all the earmarks of classic soul from the Stax/Volt era and even a touch of Rolling Stones from their Sticky Fingers/Exile On Main Street period. This upbeat tune kicks off the album with an irresistibly funky groove, backed by a horn section and vocal choir featuring the voices of Curtis King, Jimmy Vivino, Sherryl Marshall and Catherine Russell. Up next is a cover of blues revivalist Keb' Mo's "Am I Wrong," featuring Kooper on all instruments including mandolin, which is used to great effect throughout the album. This is a gritty, uptempo blues number where Kooper displays his extraordinary proficiency on guitar. (Even though he is widely known for his keyboard work, he actually started his career as a session guitarist).
"How My Ever Gonna Get Over You" is a lush ballad featuring the smooth alto sax of Daryl Lowery and some fabulous keyboard work by Kooper. "Going, Going, Gone," co-written by Kooper and Dan Penn, is a somewhat humorous take on the passage of time and getting old, set to a slow funky groove with an infectious melody. "Keep It To Yourself," one of my favorite tracks is a slow blues with Kooper once again playing all the instruments and laying down a smooth, soulful vocal. This number has a strong similarity to the later work of Steely Dan (the classic Aja album comes to mind) with it's subtle jazzy texture and seductive backup harmonies.

Photo: Anthony Sanchez
Next, Mr. Kooper serves up some rock and roll stew with his treatment of The Temptations' classic hit "Get Ready," after which he slows things down once again with the soulful and sexy "Imaginary Lover," co-written by Kooper and Sandi Stewart. The highlight of this tune is Mr. Kooper's stunning falsetto, which reminds one very much of The Stylistics. It's worth mentioning that the vocals throughout the album are all outstanding, as Mr. Kooper uses his vocal range to inject every song with true emotion. Up next, from his Norwegian tour of 2001 comes a smoking, live performance of "Green Onions," the classic instrumental by Booker T & the MGs. Mr. Kooper wails on the Hammond B3 and Bob Doezema rips through a tough, piercing guitar solo as the Funky Faculty lay down some heavy grooves in the background. This is an outstanding live track.
The rest of the disc follows suite with more top-notch material including a beautifully arranged cover of the Ray Charles hit "Just For A Thrill," written by the great Lil Hardin Armstrong and Don Raye, plus another outstanding live cut entitled "Comin' Back in a Cadillac," a ten-minute Kooper original that really cooks. The album is capped off with yet another notable Kooper composition, the soulful ballad "(I Want You To) Tell Me The Truth," which is dedicated to the memory of Rick Danko and Richard Manuel formerly of The Band.

Black Coffee is an engaging and soulful musical experience, the cover art is tastefully done and the liner notes are written by former Rolling Stones manager Andrew Loog Oldham. Kooper himself considers Black Coffee to be the finest collection of new material since the legendary first Blood, Sweat and Tears album which was released over 3 decades ago. As Al puts it, "I made the record I wanted to make and I'm very pleased with it. To me that's what success means." So if you are a long-time Kooper fan or are being introduced to his music for the first time, this phenomenal new CD is guaranteed not to disappoint.