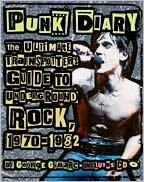 ---
Punk Diary: The Ultimate
Trainspotter's Guide to
Underground Rock
1970-1982
Author: George Gimarc
Publisher:
Backbeat Books
Paperback: 750 pages
August 1, 2005
---
Let me ask you something.

Did you know that in 1978 there was a band from East Texas called The Vomit Pigs Make Believe Blues Boobs Band?

No? How about this.

Did you know that on October 24th 1977 a band named Spizz 77, which was actually just one guy with a guitar, who went by the name of Spizz, played a gig at The Vortex in London . . . a few days earlier he had played at a festival in Birmingham and was on stage for a full ten minutes doing nothing but feedback before the promoters cut the electricity on him . . . eat your heart out Lou Reed!

Didn't know that one either huh? Okay, let's try one more.

Speaking of Lou Reed, did you know that on March 28th 1977, Lou was banned from playing four gigs at the London Palladium because of his "punk image"? Lou responded to the ban saying "I'm on my way to Stockholm where the temperature is below zero, but it's much colder in the heart of the person who banned me."

So what am I getting at here? That I know more punk rock trivia than you do? No, that's not it at all. What I'm getting at, is that a guy named George Gimarc knows more punk rock trivia than you do. But don't worry, George is willing to share.

His new book, which isn't actually "new" but we'll get to that in a second, is called Punk Diary: The Ultimate Trainspotter's Guide to Underground Rock 1970-1982. In it, there are literally thousands of entries like the factoids above, on over a thousand bands and it covers what happened in punk rock on just about every single day of the twelve year span stated in it's title!

The book is the quintessential Punk Rock reference book, and has been for years. I told you we'd get to the fact that it's not quite a new book. I first bought Gimarc's Punk Diary in 1994 when it was called simply Punk Diary 1970-1979. Then I noticed a while later that there was a second book floating around called Post-Punk Diary 1980-1982. This new book, in case it's not obvious, combines the two prior volumes, and if I'm not mistaken adds a bunch of new entries as well.

The book also comes with a CD that features about twenty five interviews Gimarc has done over the years with some of the bands covered in the book. There's one with U2 on their first American tour, and there are others featuring The Cure, Gang Of Four, Devo and The Ramones. It's pretty great. The only thing missing on the CD are the handful of actual punk songs that were included with the original edition. Those were by a band I had never heard of called Hagfish, and they were great. I just wish this new volume exposed me to another great new band. What can you do?
Here's a few more entries:
9-28-1978
Sid Vicious plays Max's Kansas City in New York with a new band called The Idols. The band also features ex-New York Dolls members Arthur Kane and Jerry Nolan. They play mostly Sex Pistols songs but also do covers of songs by The Monkees, The Heartbreakers, and Eddie Cochran.
11-14-1980
The compilation album "Yes Nukes" is released featuring "14 Atomic Powered Cuts" including "You're Fat (And I Like It)" and The Bakersfield Boogie Boys version of The Beach Boys classic "I Get Around."
9-19-1982
GREAT NEWS! After two breakups in just three years, The Vibrators are getting back together again!

There's like 700 pages of this stuff! It's incredible. Plus all of the entries I mentioned above are paraphrased because Gimarc's actual entries all contained much more detail, and I wouldn't have been able to use six of them if I quoted them verbatim. If you have any interest in Punk Rock or early New Wave, you need this book. This is the Punk Rock Encyclopedia! There could be more words in it than there are in War And Peace, and there are definitely more pictures. A+