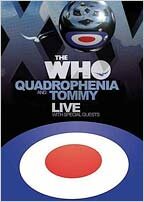 ---
Format: Box set, Color,
Live, NTSC
Region: Region 1
(U.S. and Canada only)
Number of discs: 3
Studio: Rhino / Wea
Release date:
November 8, 2005
Runtime: 433 minutes
Rating: NR
---
Very early in the bonus commentary on Quadrophenia Pete Townshend says: "The Real Me is just a song about being fucked up, really, you know, it could be in any context. This is a young kid who's having trouble in school, with his girlfriend, trouble with his parents, and everything. Can You Feel The Real Me is also about this feeling deep down inside, there is something worth finding out about, you know, I matter. I mean something. Why can't you see that? And yet he doesn't really know what it is that he has inside of him. So the song is just about anger, about misdirected aimless anger that, you know, in today's world sees a lot of quiet, you know, inoffensive young people who end up in prison because they have anger that can't be, you know, can't be channeled. We're in a post war situation where established practices of looking after difficulties in life didn't work. You know the doctor won't help you. The priest won't help you. Mom and dad won't help you. School won't help you. Nothing can help you. You're gonna have to work this one out yourself. So Can You See The Real Me is almost a conversation he's having with himself. It sets the tone for most of the stuff that happens in Quadrophenia. It's a boy having a conversation with himself."
Then Roger Daltrey adds: "I think the beauty of the Quadrophenia story is it's got nothing to do with us, it's got to do with adolescence. It has to do with the turmoil of growing up. It has to do with trying to communicate with your parents at any age, any time. That's the beauty of Townshend's writing. That's why it's important today. That's why it doesn't age on the same way that other rock music does. In that sense that's why The Who are just as relevant today as we ever were. There's timelessness to those songs because they're not flippant. They're about seriously personal issues. You suddenly realize, you wake up in the morning and you feel pissed off and you feel depressed and you know you really understand we're all going through the same shit everyday. We're all going through the same shit and that's the beauty of Quadrophenia&and it makes you feel that you're not alone out there."
This is great stuff and there are two concerts worth of this banter on the three DVD set. Yeah, you get the complete concerts without the commentary, and I'll tell you a little about those in a second, but this rare opportunity to hear two rock icons shooting with their innermost feelings about these works and about each other is priceless. With the push of a button the two surviving members of the band can be seen on your TV superimposed over the very performances and songs they are commenting on and they do it for both shows. Listening to Townshend chat about the music is almost as fascinating as hearing him play it. Daltrey's comments are a bonus to the bonus. Watching Pete float over the show and say things like the sample above makes it all an amazing journey and the DVD is a must for your collection.
In addition to the commentary, you get a complete performance of Tommy from 1989 featuring the late John Entwhistle, Daltrey, Townsend, plus Rabbit Bundrick on keyboards, Simon Philips on drums, and special guest stars Steve Winwood, Elton John, Phil Collins, Patti LaBelle and Billy Idol.
Plus you'll see a complete live performance of Quadrophenia with Ringo's kid who learned to play from Keith Moon Zak Starkey on drums. The kid is sensational and plays more like Moonie than his like old man. (Love you Ringo!)
The show has portions of the 1979 film and specially created visuals mixed in to help the audience follow the story. Personally I don't care if I understand the work or not. I never understood Queen's Bohemian Rhapsody or half the tunes Dylan threw out there, but I love 'em anyway. Quadrophenia is one of the best things The Who ever did. I love the horns, and "5:15" may be my all-time favorite Who cut. I too used to be out of my brain on the train during rush hour. That said, the visual stuff blended in with the concert is a trip. The third disc is made up of encore material from both shows and is in fact The Who's greatest hits performed live.
Three shows, two with commentary make up this fine package. Ok, so it's not the classic Who line up (that's available on other DVD's), but its classic Pete Townsend material and a very cool 3 DVD set.