Saturday afternoon: "You want to see Van Morrison Monday night?"

Van&Van the Man& Moondance& what does the ol' medulla have on Van&what have I heard&

He doesn't play his hits.

He's moody and you never know what Van you're going to get.

Sometimes he plays with his back to the audience.

Once in New York he went on at 5:30 and only played for 20 minutes&

"Yeah I wanna go!"

I mean, it's Van Morrison, right? So, like how could I not go? In fact, I'd kind of enjoy it if Van came out, refused to look at the crowd playing for 30 minutes and split. Weird? Maybe, but it would have been cool to say I had that experience. The one I ended up having on August 7, 2006 at Jones Beach was much better, proving John Lennon was right when he wrote, "Yes is the answer."

Yes& keeps it all going.

No& shuts everything down.

"You wanna see Van Monday night?" Yes! You see?

My son Mike is the guy who asked me if I wanted to go. There is no better person on earth to go to a concert with. He is a true wizard at procuring tickets and this time out he got us down front next to the stage in, like, the 5th row. Amazing seats.

But I'm getting ahead of myself. First there was the parking lot scene to deal with. The lot at Jones Beach is a weird scene. Sometimes the cops let you tailgate, sometimes they don't. Beer is another touchy subject. The unwritten rule is if you drink you need to have one of those red or blue plastic cups. I guess if you don't wave your bottle or can in the cops face they leave you alone. It's a game. It's stupid.

Anyway, the ticket says the show starts at 7:30 SHARP. I never saw that on a ticket before, but I had heard that Van is very prompt. So at 7 we moved inside and there a young lady asked Mike if he was interested in some phone service or something. More hype in the 2000's I thought as I excused myself to visit the men's room. When I returned, Mike displayed two VIP tickets he received by agreeing to let Verizon call him to pitch one of their new services. Well done son.

So we proceeded to the VIP section, a large deck-style bar area to the side of the stage. The mood was festive; mostly middle-aged folks in their casual summer wear and guess what they sold in this area? Hint& they sold it at four different bars. It wasn't just beer; it was a variety of beer from several different countries. They had wine too.

A 40-something large busted blonde in a colorful Hawaiian shirt served us two, one from Italy and one from Holland. We sipped them surrounded by the other VIP's. and I toasted Mike. Like I said earlier, there is no better person on earth to go to a concert with; he just knows his way around. The mood was fun and I was happy to be there.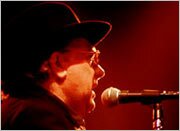 After a short while we made out way to our seats. At 8:01 the announcer said, "Welcome Van Morrison and his band," and they moved to their positions on stage. It's a big group guitar, bass, drums, trombone, trumpet, sax, Hammond B3 organ, and 2 backup singers. They kick into an up tempo, funky, Dr. John-type number and Van, in a suit with a large fedora, walks over to the group playing a saxophone. They are a funky ensemble that create a crisp, mind-clearing joyful noise.
Van confuses some of the audience based on their expectations. At a Morrison concert it is best to expect the unexpected. Just let go and enjoy whatever sounds he creates.

He is not a rock and roll artist. He was many moons ago when he was young and in the rock group Them. He is not a classic rock artist, although some of his finest recordings from 20 - 30 years ago are still played on the handful of classic rock stations that still exist.

As he has aged, Morrison has evolved into and eclectic, soulful, and brilliant artist. A concert set list may include a helping of country, blues, rock and roll, and jazz all processed through his incredible musical vision and resulting in his own unique sound.

He treated us to a taste of everything in his bag. There was "There Stands The Glass," and several others from his recent country-flavored album "Pay The Devil." There was a tune that would have fit nicely on that collection, perhaps from the old album that inspired it, "I Can't Stop Loving You," the modern country hit by Ray Charles. He did the classic "St. James Infirmary." There were breezy album cuts from some of the things he released in the last decade like "Back on Top Again," and "Precious Time."

During "Dark Side of the Road" he treated the audience to a genuine Louis Armstrong impression. He also delivered a nice sampling of hits "Wild Night," a saxed-up, jazzy version of "Moondance," "Brown Eyed Girl," and even the Them chestnut, "Gloria."

The show ended at 9:30 and that had some of the baby boomers upset. Personally I loved it& saw the show now let's go home. Hey, if he went on at 9:30 after some unknown opening act and a 40-minute intermission and did the same set it would have ended at 11. I think Van has the right idea.

There were also some complaints that he didn't do and encore. I think he did. The last two tunes, "Brown Eyed Girl," and "Gloria" complete with lights on the standing audience who sang along on the "sha la la" parts was the encore! Van just didn't walk off stage before those two and hang out for ten minutes before he returned. Its bullshit and Van knows it. Everyone there knows those last two numbers were the encore.

To the whiners and complainers I say, it's been 37 years since Woodstock, maybe its time to grow up a little. And while I'm at it, stop moaning about why he didn't do "Into the Mystic" or any of the other tunes he didn't do. The answer is simple: he did as many songs, from the thousands he recorded, as he could fit in the hour and a half he performed. You know what, I'll make it easy for you. If you go to see Van or The Stones, or The Eagles or any other act you enjoyed when you were a kid and all you have at the end of the show is complaints maybe its time to hang it up. Stay home and listen to your iPod. See, the thing is, it's still only rock and roll, and I for one still like it.

Van at the beach was a celebration of summer. As he sings, "Precious time is slipping away," so see him when you can, but get there early because he starts on time, does an hour and a half of brilliance, and then, with no encore, is gone. His concert is a thing of beauty and Celtic soul.
---